Model Home Promotion
ARE YOU LOOKING TO DO AN EXTERIOR FACELIFT?
OUR ELITE STATUS & CERTIFICATIONS WITH THE BEST MANUFACTURERS ALLOWS US TO OFFER UNBEATABLE PROMOTIONS!!
ALL BACKED WITH A PRICE MATCH GUARANTEE!!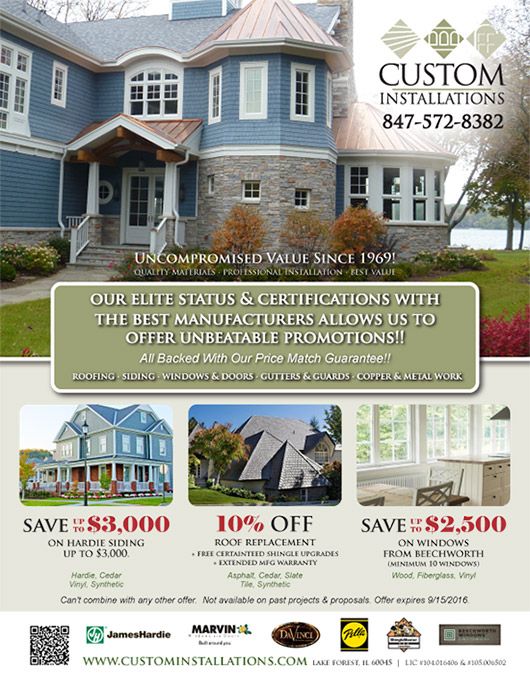 WHAT YOU GET:
$3000.00 for the first home in the neighborhood. $2000 for the second and $1000 for the 3rd home. Must be a complete Hardie re-side.
10% off Beechworth Windows. Minimum 5 windows.
Upgraded roofing shingles, underlayments, and accessories with an extended manufacturer warranty. Must be a complete re-roof.
Products that are more authentic and more durable than vinyl for just a small amount more than what you'd pay for entry level products.
Greatly increase the value of your home.
Truly more maintenance free line of products.
A licensed, bonded and certified installation that is installed to the manufacturer specifications.
Our best crews and some extra special attention!! If you're not happy than or promotion is not successful.
WHAT YOU GIVE:
Host a neighborhood weekend event. You supply your home and the guests and we take care of the rest.
Allow us to take photos, videos and testimonials and use in our marketing messages.
Agree to give three (3) online testimonials (Google+, Angies list, Yelp, Guild Quality, etc).
Give us permission to give out your name and phone number as a reference to our prospective clients.
Allow us to post yard signs in the yard, on the house, and on the dumpster.
Give us permission to bring over neighbors so we can show them the products we installed.