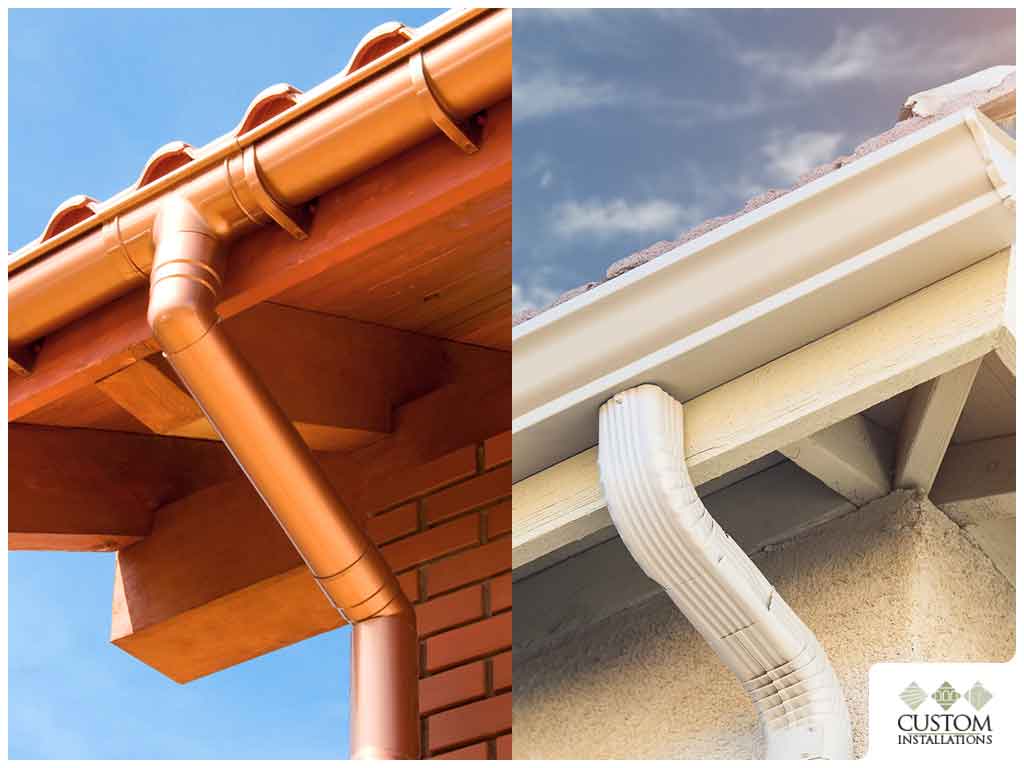 The material you choose for your gutter system will determine your gutters' appearance, durability and performance. Different materials have different benefits, so you need to choose a material that fits your needs. Custom Installations Inc is one of the most knowledgeable and dependable exterior contracting firms in our local area. In today's article, we will compare copper gutters with aluminum gutters and discuss their benefit.
Aluminum Gutters
Aluminum gutters are popular because of their affordability and lasting durability. Aluminum gutter systems have a life expectancy of up to 30 years and they are rust-resistant. Aluminum gutters can also be painted to match any home's exterior and they can be easily shaped to fit any size roof. This gutter material is perfect for homeowners who want a reliable and easy-to-maintain gutter system.
Copper Gutters
However, aluminum gutters don't stand out. They might also not be appropriate for certain kinds of historic or high-end homes. Aluminum gutters look pretty unremarkable, so if it's aesthetics and charm you're after then copper gutters are the better choice. Copper gutters have a very distinct appearance. In addition to protecting a home from water damage, copper gutters can also improve a home's appearance. Unlike other gutter options, copper gutters can act as a design element.
Copper gutters are also incredibly durable. They last much longer than aluminum gutters, lasting anywhere between 50-150 years with regular maintenance. This extreme durability makes copper gutters well-suited for houses in regions with harsh weather. Copper gutters also become more beautiful over time. They naturally develop a rich patina as the years pass. No two copper gutter systems look alike because of this patina. Copper is also a recyclable material.
Custom Installations Inc is known for our integrity, reputation and knowledge. We are certified with the leading manufacturers in the industry and we use only the best products for our customers. We have also worked on some of the North Shore's oldest and most historic homes, so you know you can rely on us. Call us at (847) 979-522 to learn more about our services and products or to request a free estimate.