Whether your Midwest home is a historic farmhouse, a vintage cottage or a classic Tudor, there are plenty of design options to choose from for your next exterior siding project.
With James Hardie® siding and trim, you can opt for the antique look of shingles or lap siding, the more modern look of vertical siding and a variety of trim options to polish off your preferred siding choices. Each offer high-performance durability and protection but with a variety of looks.
Here are a handful of historic homes that updated their siding while staying true to the home's historic roots:
Old Midwest Farmhouse
This old Midwest farmhouse is sided in HardiePlank® lap siding for a clean, well-protected and refreshed look. The creamy gingerbread trim and shutters make the home look as bright as the day it was built.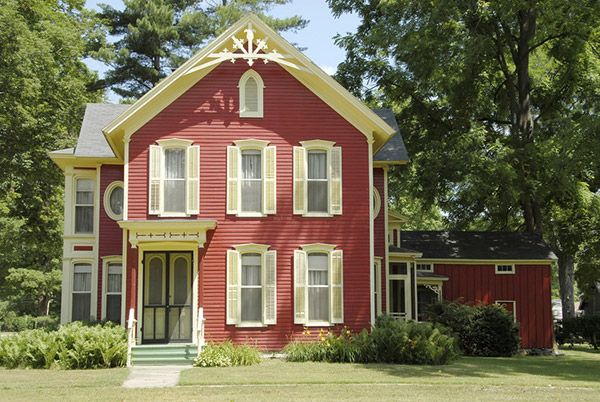 Updated Victorian in Vertical Siding
If you're seeking a more contemporary look from your home's siding, incorporating some or all HardiePanel® vertical siding is an option. These homeowners chose to outfit their modernized Victorian in Khaki Brown lap siding with smooth vertical siding to highlight the home's gables. When selecting your vertical siding, you may choose to side the entire body of the home in a vertical option, or just a portion of the house. Depending on your taste, you can opt for HardiePanel vertical siding in smooth, rustic or stucco texture.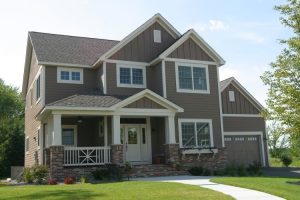 1920's Cottage in Cobble Stone
With HardieShingle® siding, you have a few options. You can use shingles sparingly to accentuate a section of the house, such as the gables of this historic cottage, or on the entire home's exterior. With James Hardie siding, you also have the choice of staggered edge or straight edge shingles. This cottage is clad in straight edge Cobble Stone HardieShingle siding, with HardiePlank lap siding in Monterey Taupe and HardieTrim® boards in Arctic White.
Traditionally Trimmed Tudor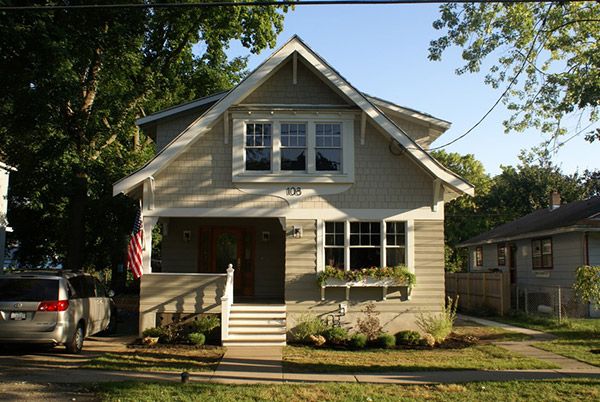 The HardieTrim boards are the final touch that adds a finished look to your home's exterior. They're a cohesive way to accentuate your home's corners, columns, doors and windows. This Midwest Tudor has Timber Bark HardieTrim boards, which highlight its steeply pitched roof and intersecting gables, keeping true to the Tudor style.