There are many materials for gutter systems available on the market for your consideration, such as aluminum, steel and vinyl. While these are all good material options, there is one that some homeowners are apprehensive of getting due to their price: copper. According to experts, however, you can actually reap a few benefits from copper gutters despite their initial cost.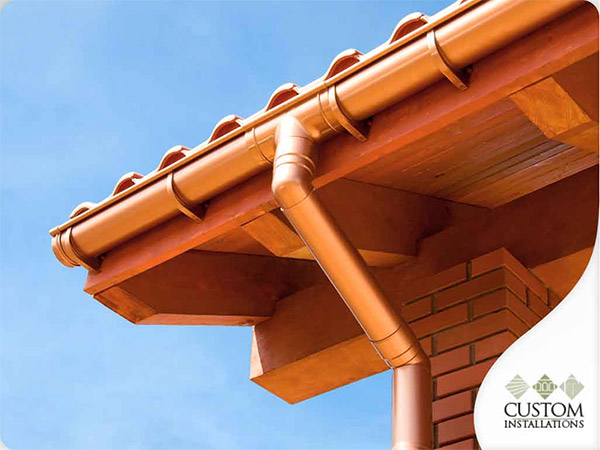 Here, gutter installation and siding contractor Custom Installations lists the four reasons why you should consider installing copper gutters in your home, starting with:
They're Low-Maintenance – Believe it or not, copper gutters are actually low maintenance. Apart from the cleaning that you'll have to conduct every now and then, copper gutters do not sag, dent, or need replacement. They also have a low thermal coefficient of expansion so they don't buckle or crack. Apart from that, copper itself prevents algae and fungi growth, reducing the possibility of blockages in your gutter system.
They Have a Long Lifespan – Copper gutters may be costly to acquire and install in your home but you can easily recoup these costs as copper gutters can last up to 100 years or even more if they're well cared for. To install copper gutters in your home, don't hesitate to turn to gutter installation and roofing services provider Custom Installations.
They're Aesthetically Appealing – On the other hand, if you plan to sell your home in the future, the aesthetic appeal of copper gutters is another way you can recoup what you spent on its installation. This is because copper fits perfectly with any kind of natural material such as wood, stone and clay, which makes it a great selling feature that can increase the value of your home.
They're Durable – Copper is one of the most durable gutter materials you can choose in the market. This is because over time, it develops a special lining called the verdigris patina that protects it from rust and other harmful elements that can potentially damage it.
For your home improvement requirements, simply turn to Custom Installations. When it comes to metal roofing and gutter installation, we are your leading service providers and we won't let you down! Give us a call at (847) 979-5522 or fill out our contact form to get a free estimate. We serve homeowners in Northbrook, IL, and other nearby areas.