In terms of sheer curb appeal, slate roofs are one of the most sought after roofing types today. Unfortunately, finding reputable and trustworthy slate roofing services can be a little challenging. The quality, performance and longevity of your roof depend largely on how well its installation is done. This means that hiring unqualified roofers to handle this important job is the last thing you want to do.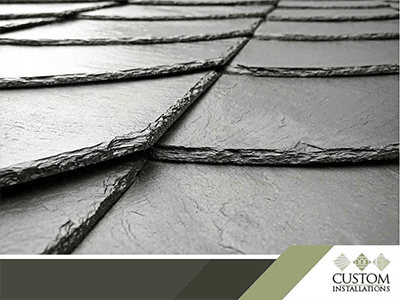 Since 1969, Custom Installations has been a leader in the roofing and exterior remodeling industry and our professionals have a few important pointers to share about hardy slate roofs.
Sturdier Than Steel
It's not uncommon for roofing companies to make claims about the life span of their slate roofs. Some would even go as far as saying slate is comparable to metal roofing systems in terms of strength and longevity. For the most part, this is true however, your choice of slate materials plays a huge role in determining how long it lasts. For example, slate quarried in some parts of Pennsylvania typically last up to 90 years, but purple, non-fading green and Buckingham variants reach life spans of up to 150 years.
Installation Factors
Generally speaking, individual slates should not have more than three inches of overlap with neighboring tiles. This number varies depending on the pitch of your roof, but not by much. Experienced roofers know how to handle head and side lap issues and will often take measures to avoid exceeding the recommended amounts.
Sheathing and Underlayment
As a system, a slate roof with good support could very well exceed its estimated service life. This means choosing the right type of sheathing— that is, the wood that supports the entire roof deck— as well as underlayment— the felt material where individual slate tiles are laid upon— is essential to the quality of your roof. Discuss these matters with your roofing and siding contractor before you begin the project to avoid any unnecessary delays.
Get quality roofing services from our professionals at Custom Installations, your trusted local exterior renovation contractor. Call today at (847) 979-5522 or fill out our online contact form to learn more about top quality slate roofing systems. We serve homeowners in Northbrook, IL.