Aluminum gutters remain a favorite for many homeowners–but their popularity is not unearned. This gutter option offers a host of benefits that make them a worthy investment. Custom Installations, the trusted metal roofing company in the area, shares some of the reasons you should go for an aluminum gutter system for your home.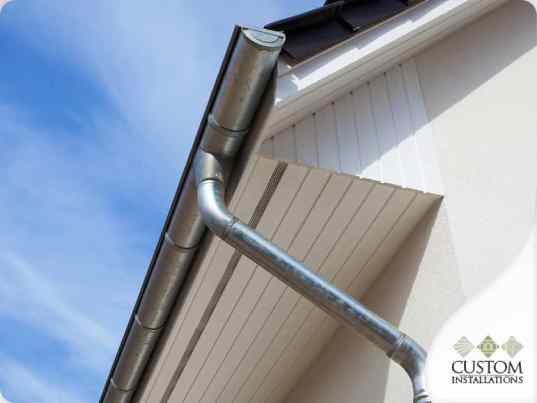 1. Durable Performance. Compared to its counterparts, an aluminum gutter system can withstand harsh weather conditions better. This allows for a more reliable and smoother draining performance. Additionally, aluminum gutters typically come with a protective coating that makes them impervious to corrosion, while also resisting impact damage caused by wind-blown debris, large hailstones, or fallen tree branches.
2. Saves you money. Aluminum gutters are not as expensive as steel or copper ones, but they're costlier than a vinyl system. This puts them at a comfortable middle, making them a reasonably priced addition for any home. Another thing that makes aluminum gutters cost-effective–they are lightweight, which means they are fast and easy to install, saving you a bit on labor costs. However, they still require proper installation, so make sure to turn to a premier gutter and siding contractor like Custom Installations to handle the job.
3. Increases Your Home's Curb Appeal. Aluminum gutters can be crafted into seamless, half-round, or K-style options to better fit with your home's architecture. They are also available in a variety of vibrant colors and finishes, allowing for many design possibilities. No matter your home's exterior palette, your new aluminum gutters will match with it beautifully.
4. Long Service Life. With proper installation and maintenance, your aluminum gutter system can provide decades of exceptional draining performance.
When it comes to top-tier gutter and roofing services, look no further than Custom Installations. Expect your aluminum gutter installation to go on smoothly when you work with us. We serve Glenview, IL and the surrounding areas. Call us today at (847) 558-1967 or fill out this contact form to schedule your consultation.