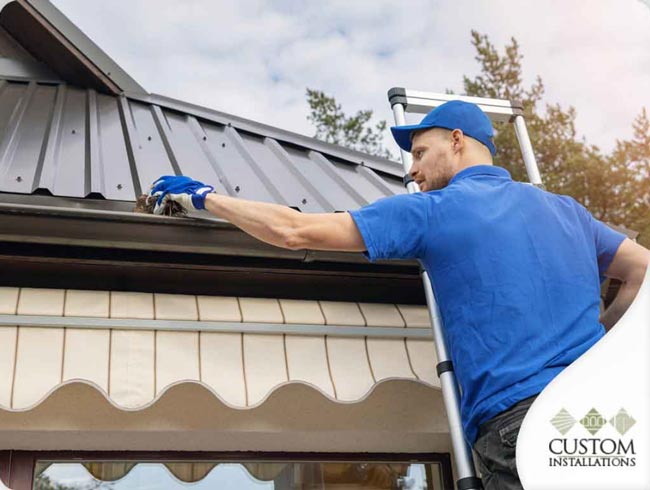 When you've just had your gutters replaced or had one installed in your home for the first time, you'll want to keep it as pristine as possible. Indeed, cleaning the gutters of your home are part and parcel of being a homeowner but sometimes, having to climb a ladder just to do so can get a bit tiring and tedious. Thankfully, there are a few ways to get around this dilemma.
Here, gutter and siding contractor Custom installations lists the four tools you can use so you can clean your gutters without needing a ladder:
With a Leaf Blower – A leaf blower is one of the tools you can use to clean your gutters without needing a ladder. Simply attach a nozzle to your leaf blower and position yourself at the end of the gutter and hold it out so it's right above it. Turn the leaf blower on to blow at the debris as you move from one end to the other. If your leaf blower doesn't have an attachment, you can purchase one at a hardware store.
With a Gutter Guard – If you lead a busy lifestyle and don't have much time to clean your gutters, gutter installation and roofing services experts recommend that you install a gutter guard around the system. That way, you can minimize the amount of debris that falls in your gutters and you won't have to clean it much.
With a Wet/Dry Vacuum – Wet/dry vacuums are another tool you can use to make your gutter cleaning process easier and safer. Simply install the curved attachment to your vacuum and position yourself at the end of your gutter yet again. Hold the attachment above the gutter and turn it on to remove the debris. Repeat the process as you walk around your property to thoroughly clean all your gutters.
With a Garden Hose – On the other hand, if you notice that your gutters have stubborn debris in them, consider using a garden hose instead. Find a gutter cleaning attachment for your hose and secure it before positioning yourself at the end of the system before turning the hose on. Since it's likely you'll get wet, don't forget to wear a raincoat for protection. Repeat the process for all your gutters and for a deeper clean, wash the exteriors of the system as well.
For your roofing and gutter installation requirements, simply turn to Custom Installations, the leading experts in metal roofing and gutter replacement services. Give us a call at (847) 979-5522 or fill out our contact form to get a free estimate. We serve homeowners in Lake Forest, IL, and other nearby areas in the state of Illinois.