Have the Best Roofing Company Install Your Copper Gutters
Distinctive. Elegant. Attractive. Copper gutters offer more than just a functional way to drain rain water away. They can take an average home and make it truly stand out from the rest. For a home that has a unique, distinguished look with tons of curb appeal, copper gutters ARE the way to go.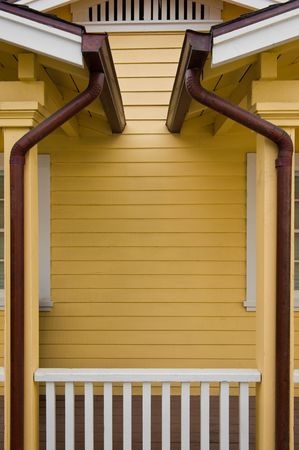 Copper gutter can be one of the smartest long-term investments you make into your home. Lasting anywhere from 50-150 years, these gutters systems stand the test of time. Their extreme durability make them a good solution for homes in the Midwest that must endure harsh winters. They are also less likely to weaken over time protecting your investment for years to come.
At Custom Installations, we find that copper gutters are often used when homeowners want to create a distinctive appeal. They add a certain vintage, antique look that only copper can offer. For this reason, copper gutters can be a great addition for homeowners with a high-end or historic property. They naturally change color over time turning from a bright shiny metal into a rich patina. This patina acts as another protective layer against the rust and corrosion.
Copper Gutters Installation
Like most metals, copper is best installed by a contracting professional with experience working with the material. At Custom Installations, Inc., we have helped customers throughout the North Shore area bring a custom feel back to their home through a copper gutter system. As the area's leading exterior contractor, we have the skills you are looking for in your next gutter installation team. Not only do we install new systems but also offer quality repair services. If your system needs some attention, schedule a visit with one of our experienced service technicians.
For a home that is beautiful beyond measure, consider a new copper gutter system installed by the professionals at Custom Installations.