DaVinci Roofscapes: Reliable Roof Replacement Materials
At Custom Installations, we are often asked what products we would recommend for our customer's homes. Which brands are the best investment offering both quality and durability? Which ones will provide lasting appeal and beauty? As one of the most critical aspects of the home's exterior, the roof is no exception. Homeowners want to make certain the roofing materials they choose are the right ones for their unique home. For those looking for an alternative to the classic cedar or slate roof, DaVinci Roofscapes is a great option.
DaVinci Roofscapes offers an extensive line of quality synthetic roofing products. These shingles not only look just like the real thing, they come with many great benefits for those searching for a cedar or slate substitute.
As a proud member of the DaVinci Masterpiece Contractor Program, we are proud to recommend the DaVinci line of roofing products to our customers as a cost effective, low maintenance, and aesthetically beautiful alternative to traditional roofing products. As a member, we offer our customers an extended manufacturer warranty that enhances the coverage on their standard warranty.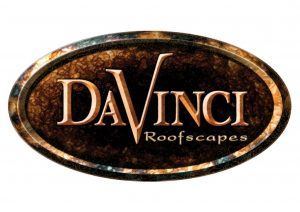 Lasting Durability
When it comes to your next roofing selection, one of the biggest factors to consider is how well the product performs. DaVinci roofing materials are impact-resistant, wind-resistant, and built to withstand even the harshest of Midwestern winters. They won't dent or crack when hit by a large hail storm or falling limb. These shingles are also fire-retardant offering further safety protection for your home and everything inside. You can rest assured that your roof will hold strong to whatever Mother Nature has to offer.
Quality Beyond Measure

Not only are DaVinci roofing products a strong defense for the outside of your home, they also enhance it's beauty and appeal. The company offers one of the most realistic composite materials on the market today. Their shingles so closely resemble the real thing that even experienced contractors can't tell the difference from the ground. The company uses a proprietary industry-leading engineered polymer that delivers the attractive appeal homeowners are looking for. With over 7 profiles and 50 shades to choose from, you are sure to find a DaVinci roofing product to match your home.
Less Maintenance, Less Hassle

Many homeowners love the look of natural cedar or shake but hate the cost and time necessary to maintain it. DaVinci synthetic shingles offer the same attractive appeal without all the hassle. These roofing products are virtually maintenance-free, a welcomed benefit to any busy homeowner. And because these shingles are built to last, you can also enjoy less upkeep costs over the lifetime of your roof.
An Award-Winning Industry Leader
DaVinci Roofscapes is an award-winning industry leader when it comes to synthetic roofing products. Each of their products meets or exceeds current building industry standards. They also have an outside, third party agency rigorously test every new line of shingles. As a further testament to their commitment to quality, DaVinci offers a limited lifetime warranty on their natural-looking shake and slate tiles.
Chicagoland and Metro Milwaukee DaVinci Roofing Contractors
If you want to enjoy the lasting beauty DaVinci Roofscapes has to offer, contact the team at Custom Installations. We are proud to be the leading Chicago contractor for DaVinci brand roofing products. Not only does our company carry nearly fifty years in the exterior contracting industry, but as a valued DaVinci Masterpiece Contractor we are committed to the highest of standards. Our expert team will ensure your new DaVinci shingles are installed to the specifications necessary for a lasting, durable finish.
Let us help you discover the perfect DaVinci product for your Chicago home. Proudly servicing Northbrook, Highland Park, Winnetka, Glenview, and more.
View DaVinci Roofs Installed In The Greater Chicago Area in a full screen map.